Bio
---
Charlie  After Perfomance With Country Legend Mac Davis, Palace Theater, N.Y.C. -  1993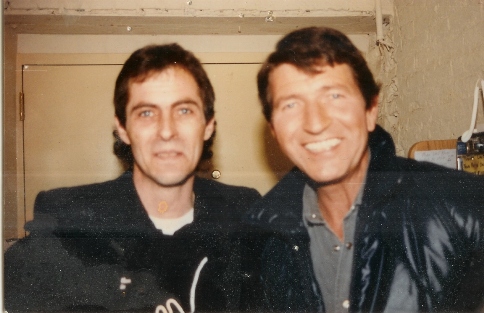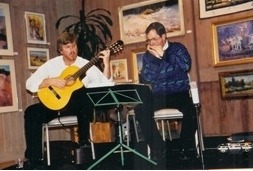 Charlie Performing with Guitar Virtuoso Marc Yaxley

     Playing the harmonica professionally for over 38 years, Charlie studied music at Kingsborough College, N.Y.C.  He could be found most any night sitting in and jammin' on his harp as part of the  N.Y.C. country music scene during the 70's and 80's. 
    He  also performed for over 30 years as a touring musician and  session player. His harmonica can be heard in some popular television shows including the "Biography Channel" and most recently, " Pawn Stars"
 
  From 1991 -93, he played harmonica on Broadway, N.Y.C. with the Palace Theater orchestra in the Tony Award Winning Musical "The Will Rogers Follies".
  
   Charlie has worked with Larry Gatlin, Mac Davis, Keith Carradine, Mickey Rooney, and Dominick Chianese (Uncle Junior  Sopranos) He has also shared the stage with The Judds, George Strait, Alabama, Randy Travis and The Charlie Daniels Band. 

   Since 1999, Charlie has been sharing his love of the instrument by teaching over 45000 children to play with his very popular  harmonica program in the schools, He also performs in numerous musical theater productions.  He is  especially well known for his soulful playing in the Tony Award Winning Musical, "Big River, The Adventures Of Huckelberry Finn"

  Since 1996, He has been the featured harmonica player for The State Theater Of  North Carolina (Flat Rock Playhouse)  He scores original harmonica parts and plays in numerous shows there.


   In 1989, Charlie appeared  as a cowboy harmonica player in a national Mcdonalds television commercial.

  In 1983, he instituted the blues harmonica program at the New School for Social Research, N.Y.C.

   He has been awarded a North Carolina Regional Artist Grant and is a member of "The American Society Of Composers, Authors and Publishers" (A.S.C.A.P.)


*Charlie is available for musical theater and recording work (All U.S.A.)